Running in Sikkim was one opportunity to check back how and where do I stand today after recovery of high altitude effect.
Opportunity was even more lucrative as I had my best buddy, Col Sundaresan, to run with and be a part of his lovely mission. He is running 50 full marathons in 50 weeks to collect 50 lacs to be distributed to 50 martyr families. I ran with him in Dehradun too, just 2 weeks prior.
The run was on 14th May from Changu lake at 12500 ft to Libing helipad area in Gangtok covering 42.2 kms. We did acclimatisation from 10th to 13th May by staying at 10500 ft in a transit camp of army. Little runs, up and down, visit to Nathu la (Indo China border) , Baba Harbhajan temple, daily visit to Gangtok for press conference, meeting with Governor & interaction with students of SRM university kept us super busy.
We had kept 13th as free to relax and be ready for 14th but my course mate was commanding there. His request to speak to men to motivate them could in no way be refused, (coursemates are above all) so on 13th we interacted with his team. I got moved when post talk, one of the boys walked up to me and said, " sahab 2 saal baad tuhanu khabar daunga ke tusi ajj iss bande nu kis level te motivate kar ditta " (sir, I will tell you the result of today's motivation after 2 years, you have no idea how much you have motivated me today).
While going up on 12th we met with landslide and turned back to stay with Sikkim scout. It was an adventure within an adventure trip, as we didn't have any clothing but the suits we were in because we had a meeting with the Governor that day.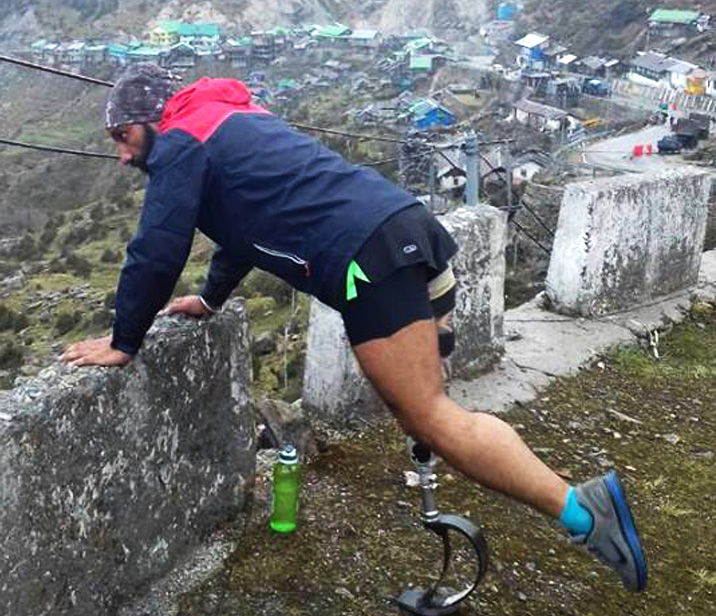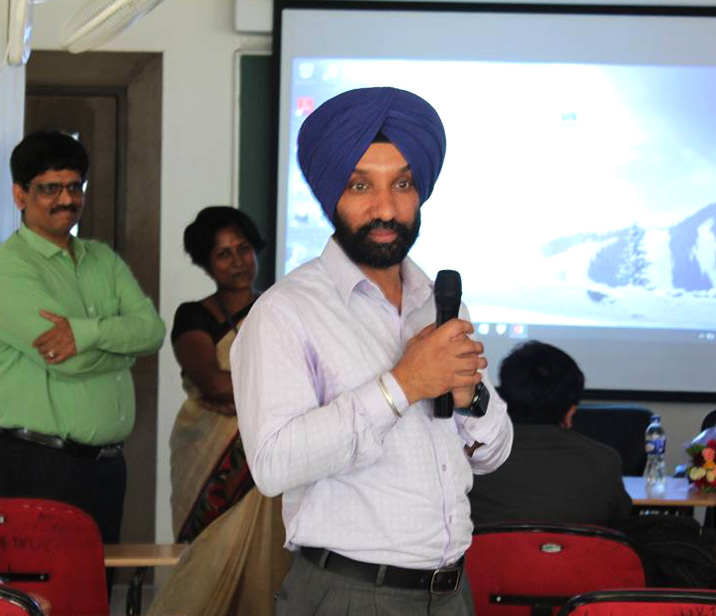 But, when the army is around, one need not worry for anything. The stay at scouts was the most comfortable and memorable one. Every thing (every small thing) was arranged by team scouts. Sumptuous food, perfect weather (ideal to be with partners). Unfortunately I and Sundar sir were facing each other 😀 lol ) , & lovely sight from guest room. Despite their coercive hospitality, we refused to enjoy drinks as acclimatisation was going on & focus was on run than anything else. Well, this becomes the reason to go back there for leisure stay too. 😉
As it was a test run for me I had gone with the aim of trying only 21km but after going there we both were confused with what distance should I run. After lot of deliberations we concluded that I should chose middle path and run 31 km. The fact that there was a long patch of damaged and slushy road in between became the reason behind this decision. This way I will run more but save my prosthesis from getting damaged.
Thunderstorm, a night before had raised some doubt in others & questions were asked if we will still go ahead. Obviously, the answer was yes even if it snows. But Sundar sir predicted that it would be a clear sky on run day. Lo and behold, it was so clear that throughout the route we were craving if the sun could hide for some time please. 😉
We started at 5 am from area crusher (that is how we name in army, there is a crusher lying on the hairpin bend at the road and distance from this point was measured by us using a Garmin and speedometer of a Gypsy ) we had kept a distance of little more than 42.2 so that in case Garmin misbehaves, we should not remain short of full marathon mark as Sundar sir had do run one FM (conveys a lot about morals we have learnt from army as it was not an organised marathon, no one was keeping an eye on us and no certificate was to be given but the mere fact that an FM was to be run every week didn't let our conscious to take any short cuts).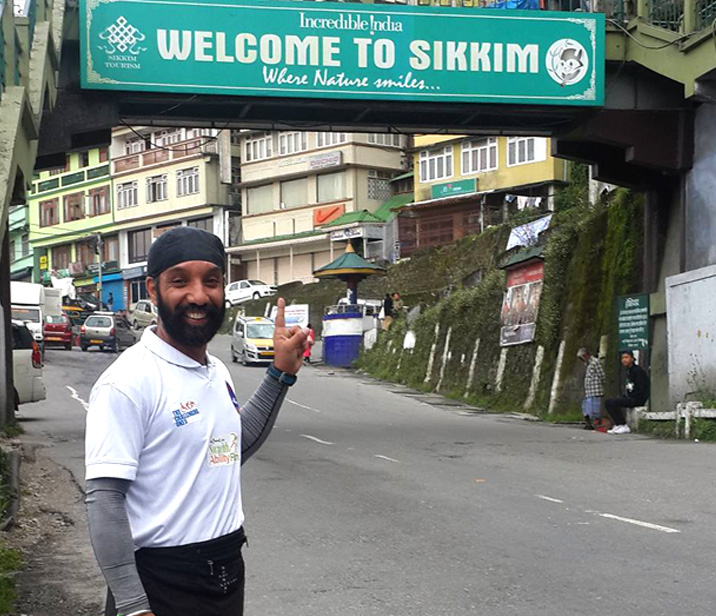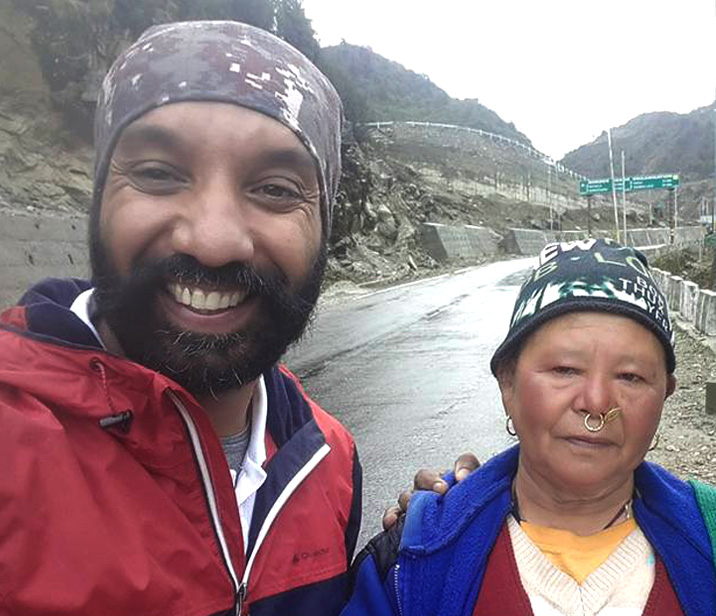 We were accompanied by men from various paltans enroute. Ojas, son of CO of Sikkim scout, just 11 year old ran almost 12 km and I was damn impressed by his enthusiasm.
During the last stretch, after 25 km mark, heat was increasing and was pulling me back but the boys around and Sundar sir kept the spirits high.
A drop of almost 5000 ft forced the road enroute to have slopes as steep as 40 degree gradient and taught me well to maneuver it by trying all stunts of light jog, single leg hop, snap knee (artificial one) breaking action to walk with the slowest speed. I am thankful to all the boys who had never met me in the past and might not have met again but were kept an eye on me from corner to react and hold me if I fell (this is true love & one can get it only in army). God's grace, I did snap once but the falls during Doon run and the practice had trained my mind on how to balance, in case there was any situation of stumbling and this way I didn't fall even once during the whole route (practice makes you learn most difficult things too & that is why I suggest fellow amputees how important it is to fall if you wish not to fall ever again 🙂
Finally in about 4.26 hrs I entered helipad area of Libing, Gangtok, along with Sundar sir and other runners (Maj Gurpreet, Col Partha, Col Amit, Capt Deepak, two boys from SRM university whom we had motivated previous day to join us, and many men of my beloved, Indian Army). General officer commanding, Maj Gen Tejbir Singh was waiting for us. He himself is a sportsman and knew the importance of cooling down and stretching after such a long run. Immediately on receiving us he asked us to go and do proper stretching which was unthinkable from any civilian chief guest.
As Col Sundar is trying to collect 50 lacs from corporates, to be distributed to 50 martyrs family, Gen expressed his desire to support financially too. Although, in no way we had the intention of taking funds from army itself to be given to our own families (as army is doing a lot to support) but Gen was so touched and emotional with the idea that he couldn't stop but contributed one lac to the cause. One who knows the pain of martyrs' families and feels the genuineness of mission can only do so.
Next day I again gained height (went up again by 1000 ft) but in a paraglider as Air Officer In charge of Bagdogra, himself an ultra runner, and a well wisher senior friend, made me take this ride.
Jai hind